Rhubarb has been a staple in my life as a Fairbanksan. I grew up making rhubarb pie and rhubarb crisp, which are perfectly delicious ways to use rhubarb. Incidentally, one nickname for rhubarb is "pie plant." Once established, rhubarb generally thrives with little attention in many Alaska locations. It is even thriving and volunteering on the edge of the trees in my yard with absolutely no care.
Not only is it prolific, the harvest period is also quite lengthy. As I've said before, I like to grow things that I can harvest all summer long. Although I certainly will not argue with rhubarb pie or crisp, let's face it, there is a bit of a mush factor that accompanies these dishes. As my rhubarb plant has grown in productivity in the past few years, I've discovered a few new favorite ways to use rhubarb.
Rhubarb Pistachio Picnic Bars
This recipe for Rhubarb Picnic Bars comes from Smitten Kitchen and is a delicious way to use rhubarb in a dessert. I think it brings out the best of rhubarb, maintaining its beauty, taste and texture. It is one of those recipes that, after trying it, all of my friends and family ask me for. You can kiss the rhubarb mush goodbye in this recipe. Instead of almonds, I used pistachios as I'm not a huge fan of almonds.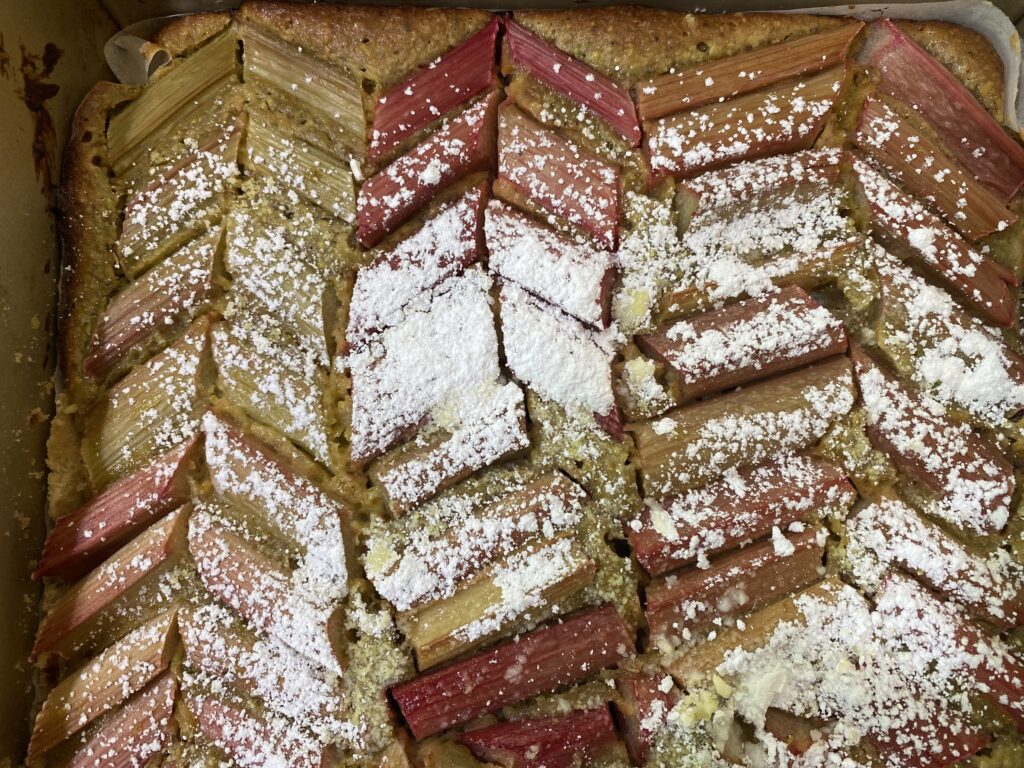 Rhubarb Banana Smoothie
Although I poo-poohed mushy rhubarb in a pie, it is not a problem in a smoothie. My kids love frozen fruit and smoothies. Who doesn't want a smoothie on a hot day? I adapted this strawberry rhubarb smoothie recipe . I cooked the rhubarb in apple juice concentrate with water, froze it, then blended it with the bananas and yogurt.
Recipe
2 frozen bananas
1 cup rhubarb, cooked with 1/2 cup apple concentrate and 1/2 cup of water until very soft (5-10 minutes), then frozen in an ice cube tray.
3/4 cup whole milk yogurt
Blend together in a food processor or blender until smoothe. You can add in some milk if you want it do be less thick. These proportions are very flexible and I don't actually measure these.
Delicious. We also tried a banana, rhubarb and blueberry (wild Alaska blueberries, of course) version but preferred the straight rhubarb and banana version, which is saying a lot because I LOVE Alaska blueberries. I froze a bunch more rhubarb cooked with apple juice and plan to continue making these smoothies this winter and maybe even save a bundle on frozen fruit. And anytime bananas are about to go bad, I throw them in the freezer and most often use them in smoothies.
By the way, the website where I found these smoothie recipe is called Food Hero and has tons of easy, healthy recipes to make with or for kids.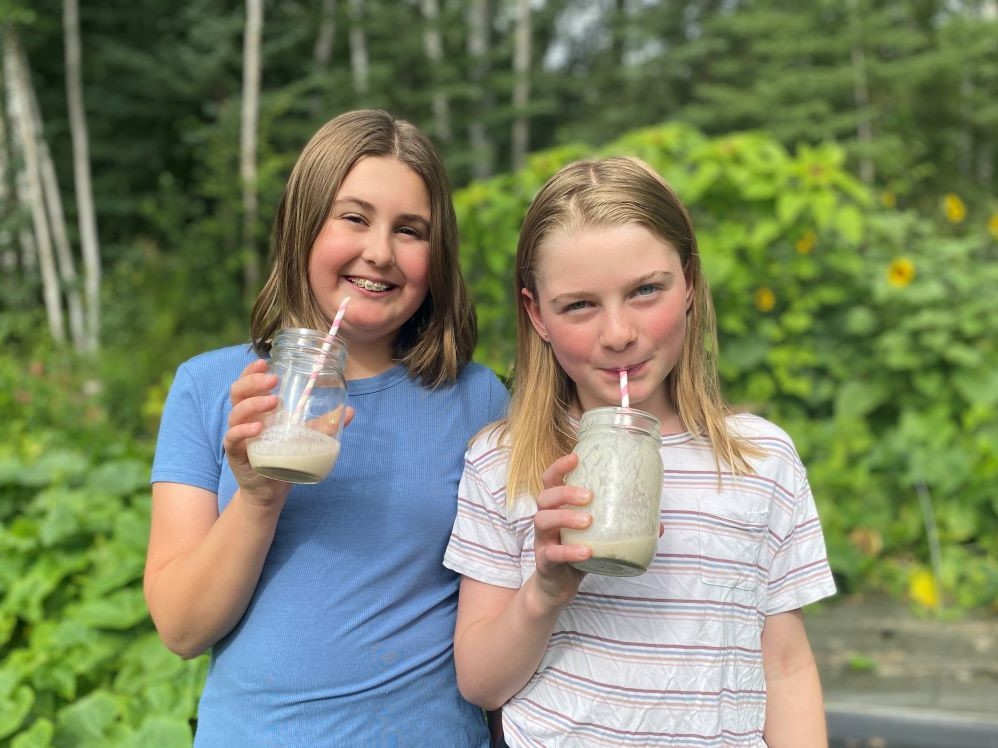 Rhubarb Chutney
Skip the ketchup and slather this on instead. This recipe goes well with another Alaska summer classic: salmon burgers. It's also excellent on hamburgers or hot dogs. It could work as a Thanksgiving substitute for cranberry sauce. This is a recipe for the salmon burgers and chutney.
Another version I like combines the following ingredients:
Ingredients
2 tablespoons coconut oil
1 teaspoon black mustard seeds (I used regular)
1 teaspoon fennel seeds
1 tablespoon finely chopped ginger
1 large, 3-inch stick of cinnamon, broken
1 red onion, finely diced
2 cups of chopped rhubarb
1 teaspoon red pepper flakes
3/4 cup dark brown sugar
1/2 cup water
1 cup dried cherries
The directions are to first heat the oil in a skillet, then add the spices and cinnamon and sauté for a couple of minutes. Next, add the onion and ginger and sauté for a few minutes more. Then add the rhubarb, red pepper flakes and finally the brown sugar and water and simmer for another 25 to 30 minutes. Add the dried cherries after removing the chutney from the heat. I would include the weblink for this recipe, but it no longer works, and a quick Google search did not turn up this recipe.
Rhubarb Raspberry Scones
These scones were delicious with rhubarb. Instead of currants, I used half raspberries and half rhubarb and put a full cup in instead of the 1/2 cup listed in the recipe. I sprinkled the rhubarb with sugar the night before and put it in the fridge overnight. The rhubarb was a bit tart, but I think chopping the rhubarb more finely than I did would fix the problem.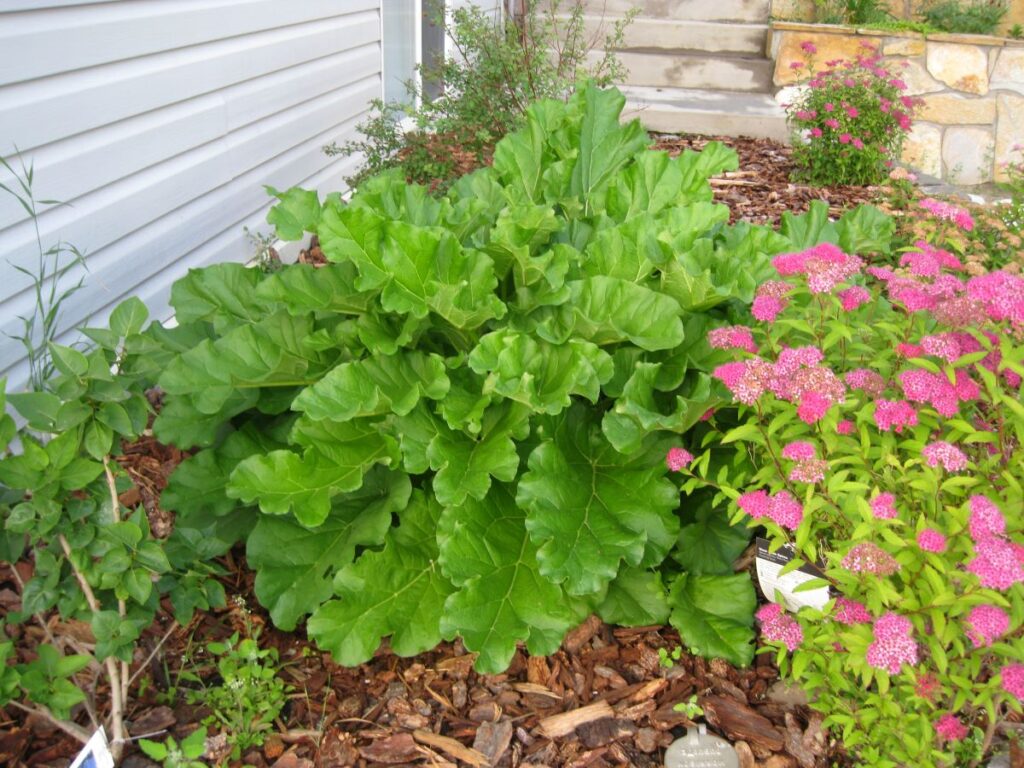 If you don't have rhubarb growing in your yard, spring or fall is a great time to plant one. Ask a neighbor to split one of theirs or purchase a plant from a local greenhouse or nursery. Rhubarb is also widely available in farmers markets as well. I have been harvesting rhubarb from June until now (early August). This long harvest period is another great thing about rhubarb.
At the University of Alaska Fairbanks Cooperative Extension Service, we have two thorough and excellent publications on rhubarb. One on how to grow it and one on what to make with it.
Published in the Fairbanks Daily Newsminer August 19, 2023.