I grew up in Fairbanks and according to my memory, it was never windy. Without wind, 40 below zero is not that cold. Without wind, you can water your garden and it stays moist for the day. Without wind, plastic row covers do not blow away. You get the idea. I am not a huge fan of the wind.
This spring, in addition to the wind, we had very dry (drought) conditions. I direct seed a large portion of my garden and the seeds need to be kept wet until they emerge. Keeping the seeds moist was really hard to do this spring because of the combination of hot, dry, windy weather. To keep the seeds moist, I used drip irrigation, covered the seedlings with Remay (frost cloth), and watered the seeds sometimes three times a day with a sprayer hose. Later in the summer, it is so much easier to keep a garden watered because the plants provide shade and they have roots.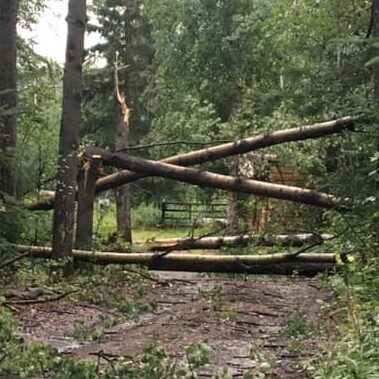 Not only did the breeze seem to be a more constant companion this spring, there were also a couple of uncommonly intense windstorms in July and August. In Golden Valley Electric Association's (GVEA) Ruralite magazine (September 2022), Josh Davis, the director of operations said, "The July wind storm was the worst storm we've had in my 18 years here." He noted that the August windstorm was also pretty bad.
Continue reading