I grew up in Fairbanks and according to my memory, it was never windy. Without wind, 40 below zero is not that cold. Without wind, you can water your garden and it stays moist for the day. Without wind, plastic row covers do not blow away. You get the idea. I am not a huge fan of the wind.
This spring, in addition to the wind, we had very dry (drought) conditions. I direct seed a large portion of my garden and the seeds need to be kept wet until they emerge. Keeping the seeds moist was really hard to do this spring because of the combination of hot, dry, windy weather. To keep the seeds moist, I used drip irrigation, covered the seedlings with Remay (frost cloth), and watered the seeds sometimes three times a day with a sprayer hose. Later in the summer, it is so much easier to keep a garden watered because the plants provide shade and they have roots.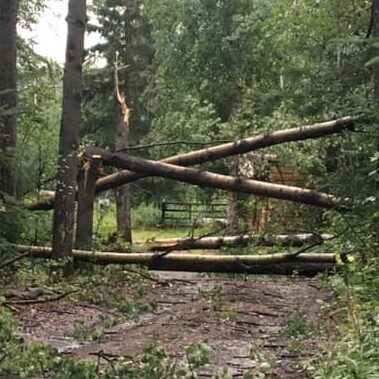 Not only did the breeze seem to be a more constant companion this spring, there were also a couple of uncommonly intense windstorms in July and August. In Golden Valley Electric Association's (GVEA) Ruralite magazine (September 2022), Josh Davis, the director of operations said, "The July wind storm was the worst storm we've had in my 18 years here." He noted that the August windstorm was also pretty bad.
I can recall one wind event nearly 20 years ago. On the first day of research for my master's thesis, which was to compare crops growing inside and outside a high tunnel, a dust devil threw the entire 30-foot-long high tunnel up in the air and into the trees. This was in May or June of 2005 in Fairbanks. So there wasn't a complete absence of wind back then.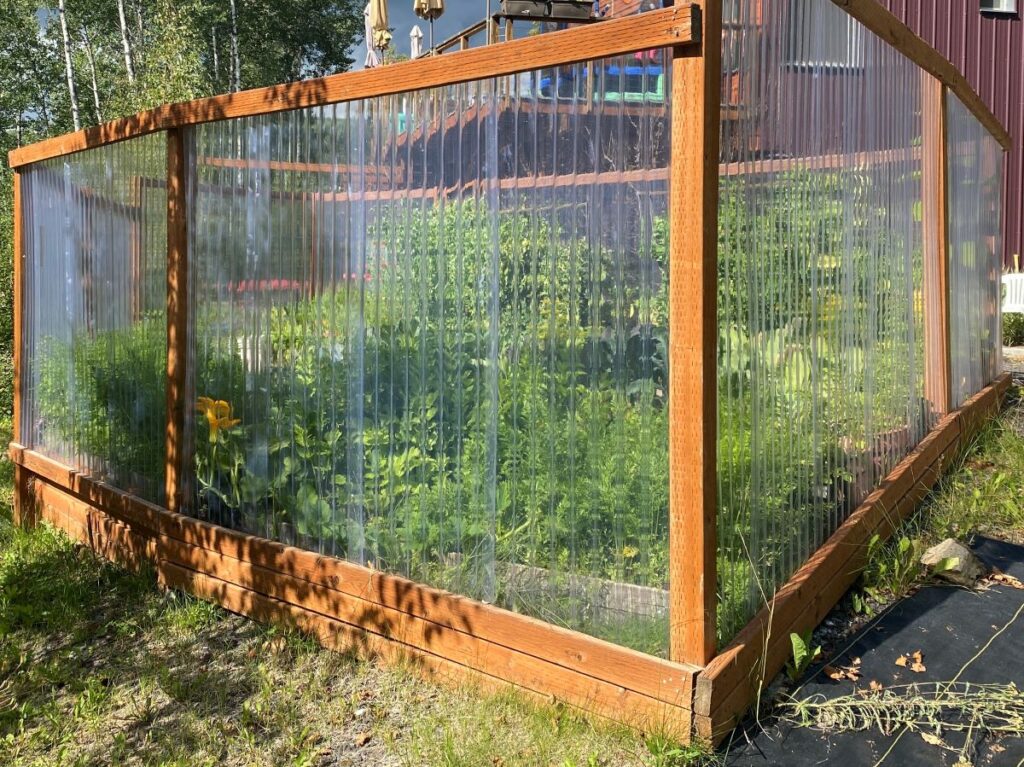 All this wind has gotten me thinking about getting a high tunnel (well-anchored!) or a greenhouse, or building a fence with greenhouse panels like my friends Emily Youcha and Luke Boles. They built their fence when they moved to their current house because it's always been windy there. I think this is a genius solution because it's a fence, it's warming temperatures, and it's blocking the wind. Greenhouses of course are nice, too — but you're usually not going to want to grow your cool season crops in there. Although, if you want to get really fancy, there are greenhouses with open (retractable) roofs that have a lot of benefits too.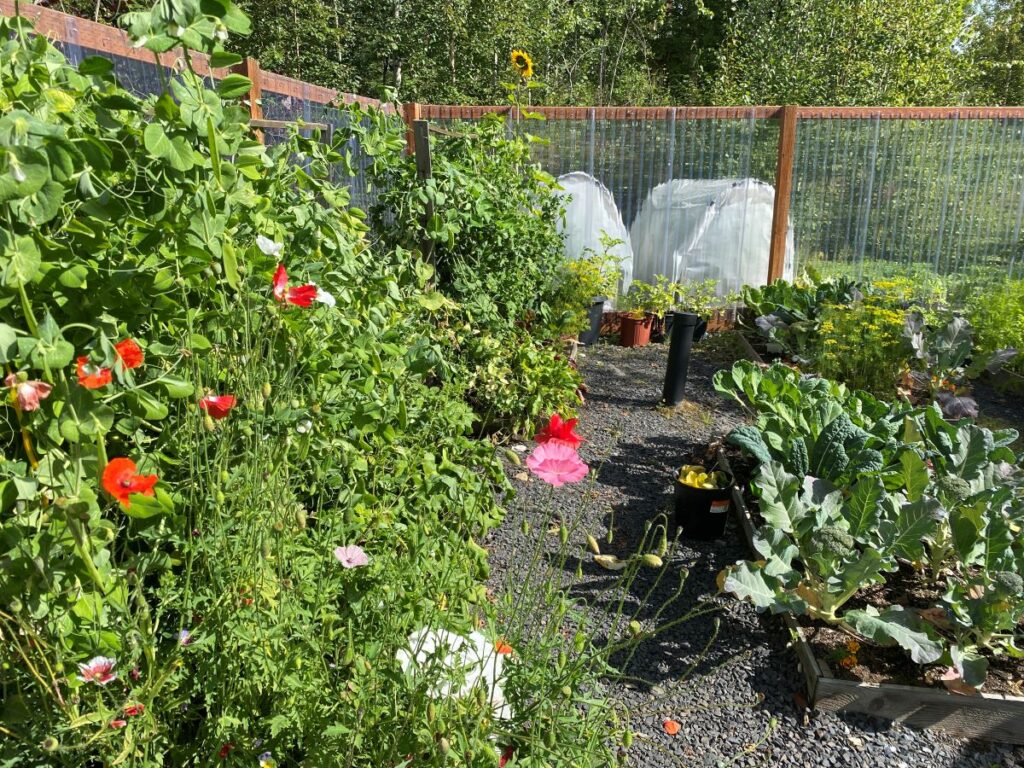 While I was researching this article, I learned a few things about wind in Fairbanks and the state. According to Alaska's Changing Environment, storminess, or the frequency, duration and intensity of wind, has not increased in Alaska (in the winter and autumn). In fact autumn is actually calmer now. I have quite enjoyed this autumn — the lack of smoke, mosquitoes and wind combined with pleasant temperatures has been lovely!
According to Rick Thoman, an expert on Alaska climate and weather, "I've looked in depth at wind speed changes because 'everyone everywhere' (not just Alaska) thinks it's windier than it used to be. I've looked at chances in averages with both point observations and gridded data and various threshold exceedances and have yet to come across any sign of systematic change." However, the graphs that Thoman generated for me did show that this June was windier than the past 18 years in Fairbanks. We were also in drought conditions in June 2022 throughout the state. Drought causes a great deal of stress on plants not to mention a burden on the many gardeners and some farmers who lack running water in Fairbanks.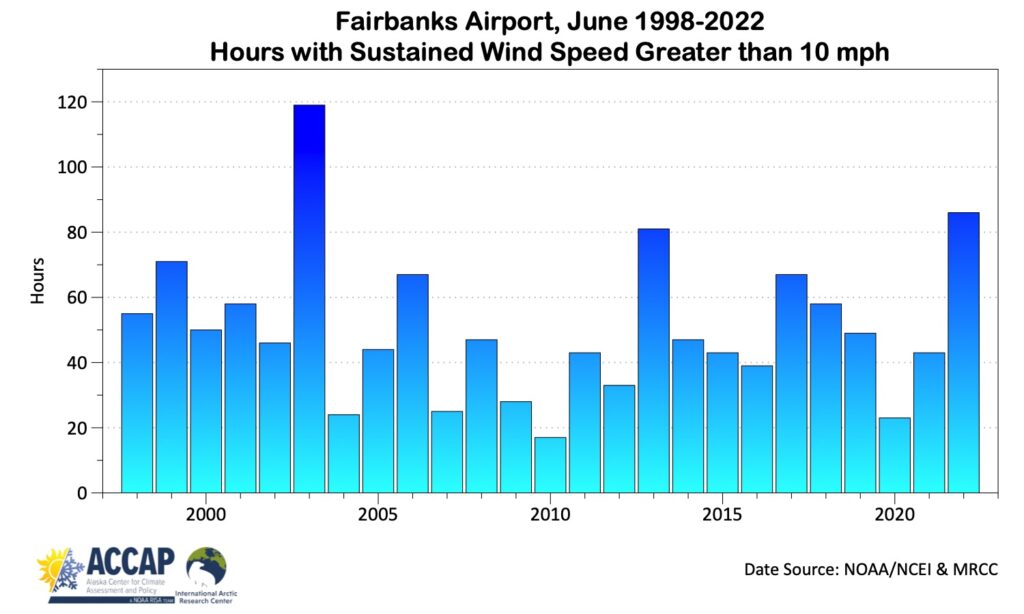 And the growing season as a whole was one of the windiest, along with 2013, in the past 14 years. Thoman also mentioned that wind gusts are not recorded unless they are over 25 mph at the airports and, "That said, I have checked and there is no trend in, say, the number of days with peak (instantaneous) gusts exceeding that threshold. As you note, the spatial scale of microbursts are tiny, and so there are no tools to analyze change over time."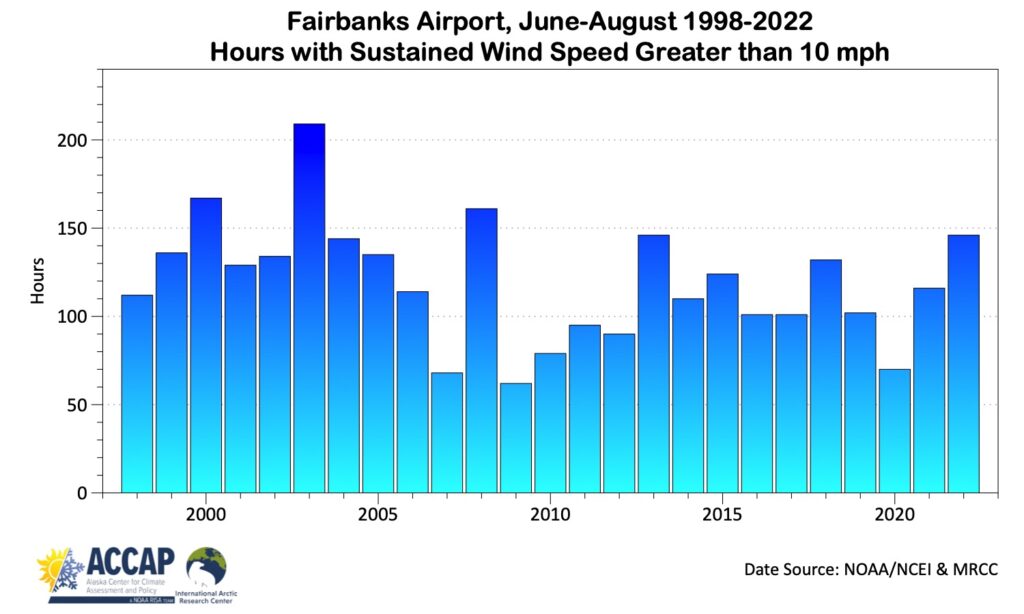 We were also in drought conditions in June 2022 throughout the state. Drought causes a great deal of stress on plants not to mention a burden on the many gardeners and some farmers who lack running water in Fairbanks.
The Alaska Community Wind Tool is another interesting site where you can view wind patterns specific to any Alaska community. It's also interesting to take a look at which direction the wind is usually coming from. For my garden in Fairbanks, the wind is usually coming of the north so it might make sense to build a wind barrier on the north side of your garden. I know relatively speaking, Fairbanks is not windy and many other Alaskan communities contend with much bigger wind storms, for instance, over 140 mph winds in Nikolski, AK. Apparently, the geodesic dome greenhouse used in Nikolski can withstand tornadoes, if properly maintained.
I've discussed how climate plays a role in gardening in depth previously.
To summarize, here are some ways to successfully garden in dry, windy conditions:
In the spring, use drip irrigation and Remay to cover seeds and seedlings.
Build a wind barrier at least on the north side of your garden, or a fence with clear, greenhouse plastic around your garden.
Plant in raised beds more deeply so that the wood acts as a wind barrier. Cover the raised beds with clear plastic to protect plants.
Use well anchored season extension techniques (row covers, hoop houses, high tunnels, or greenhouses) to block the wind and increase humidity and temperatures.
Published in the Fairbanks Daily Newsminer September 18, 2022.