Do artichokes grow in Alaska? Why yes, they do! Unlike in warmer climates, here they are usually grown as annuals rather than perennials. They're not something I've seen commonly grown or at farmers markets, but they have been grown in Fairbanks as far back as 1984 and are being trialed at the University of Alaska Fairbanks.
About a decade ago, as an Extension employee, Taylor Maida grew artichokes in Fairbanks. Now as the trials manager at High Mowing Organic Seeds, she said artichokes growing in Fairbanks looked better than in Vermont! Her favorite vegetable to grow and eat is the artichoke.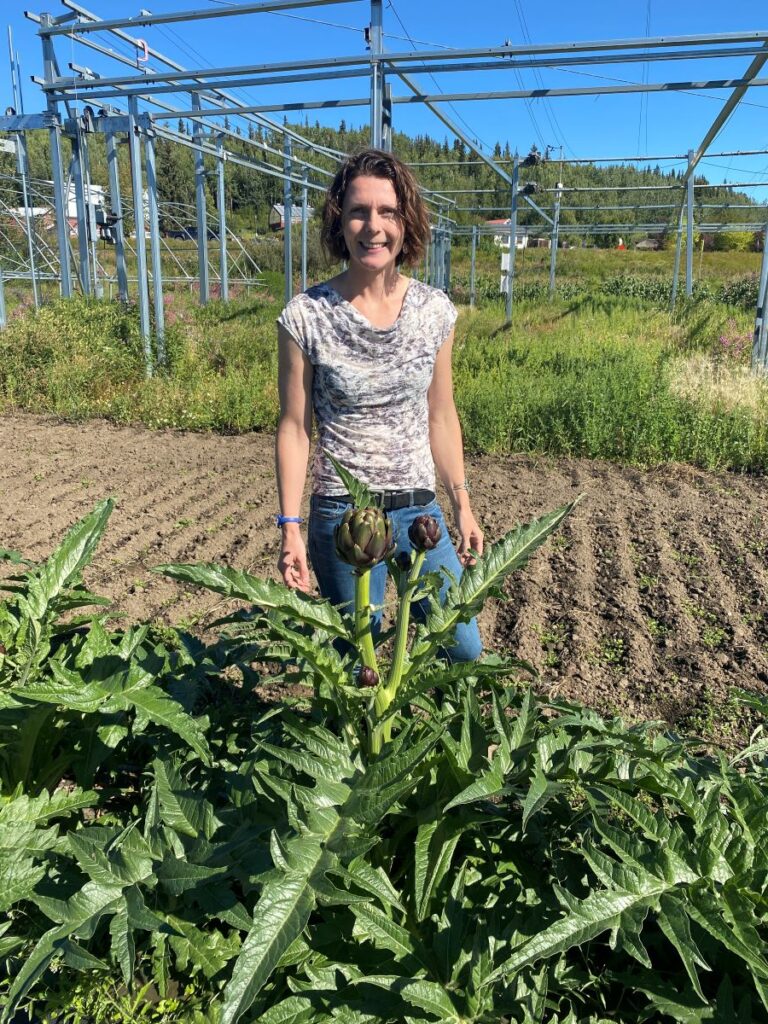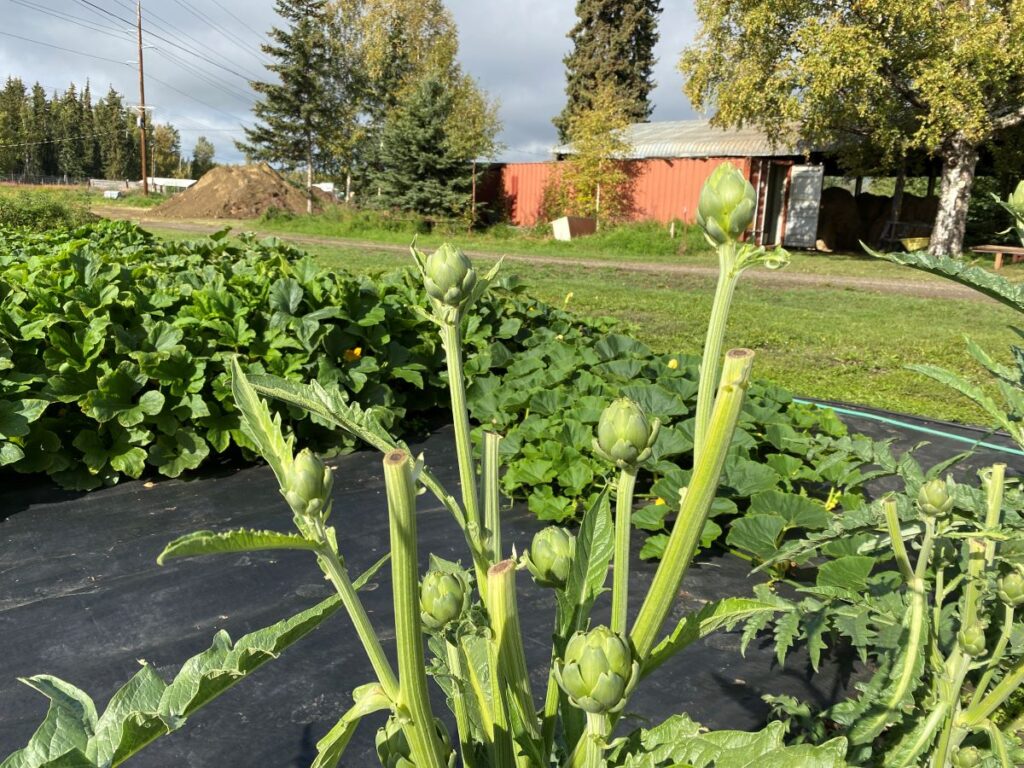 Unlike Taylor, I have a hard time getting excited about artichokes given the amount of work that goes into a relatively small amount that is edible. I asked Glenna Gannon, director of the vegetable variety trials in Fairbanks, why you'd want to grow artichokes? She said that you might want to grow them because it's novel and if you successfully grow them in Alaska, it kind of makes you a rock star gardener, just like if you can grow corn successfully.
Even though artichokes do not top the charts in terms of edible weight, in 2021 Fairbanks trials, Tavor produced 10-12 artichokes per plant averaging 5 ounces each. That's definitely more artichokes than I eat in a year. Plus you can also eat most of the immature buds because the thistle has not yet formed. Colorado Star was found to be the best tasting. Green Globe and Imperial Star were also grown successfully.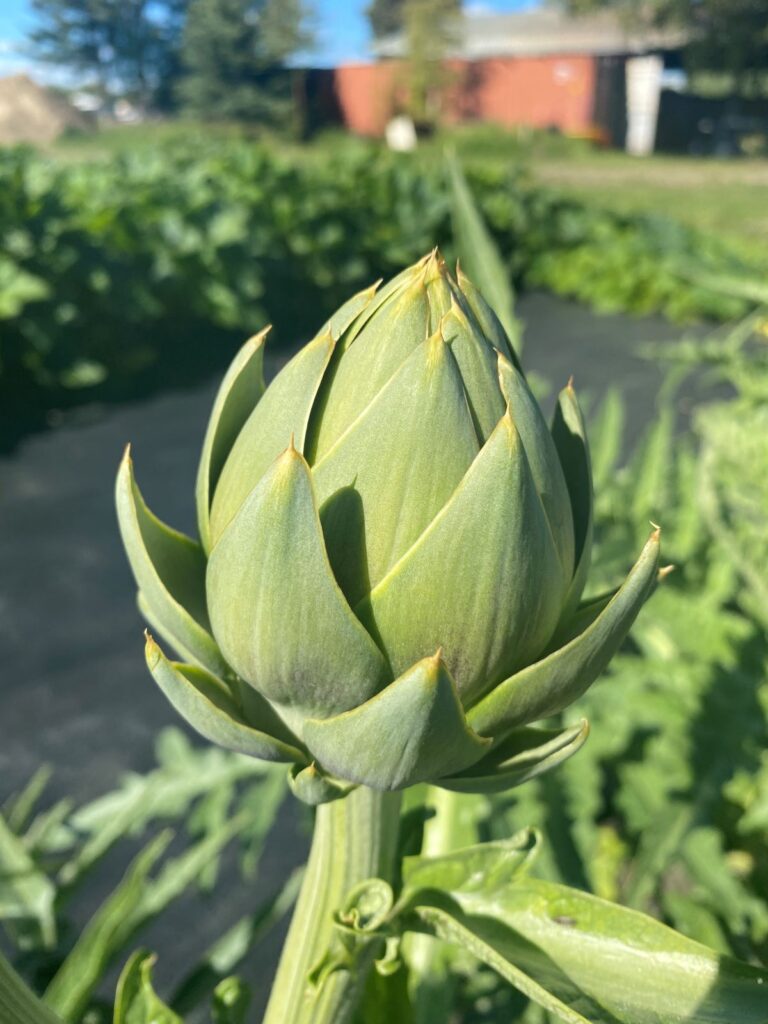 To grow artichokes, you'll want to start the seeds in mid-March and transplant out after the danger of frost has passed. When growing artichokes as annuals, they do need a period of cold weather for vernalization. Johnny's Seeds recommends timing planting so that the transplants receive 10 days of 45-55 degree Fahrenheit temperatures. Glenna recommends growing them in IRT plastic to warm up the soil as well as to make it so you don't need to weed them. Their thorns are no joke — which have the added benefit of seeming to deter the moose as the trials are not fenced. They should be spaced 3 feet apart, in rows 2-3 feet apart. For more information on growing artichokes, check out Oregon State University's technical bulletin.
Harvest begins around mid-August with the apical or center stem and can continue for about a month, even after a frost down to about 25 degrees Fahrenheit. The buds should be harvested when they are still tight and firm. You'll want to wear long-sleeves when harvesting. If you don't get around to harvesting the buds, they produce a beautiful purple flower — reason enough to grow artichokes, along with their distinctive leaves. Another reason to grow your own artichokes is that they don't store long, at most two weeks at an ideal temperature of 32 degrees Fahrenheit and over 95% relative humidity.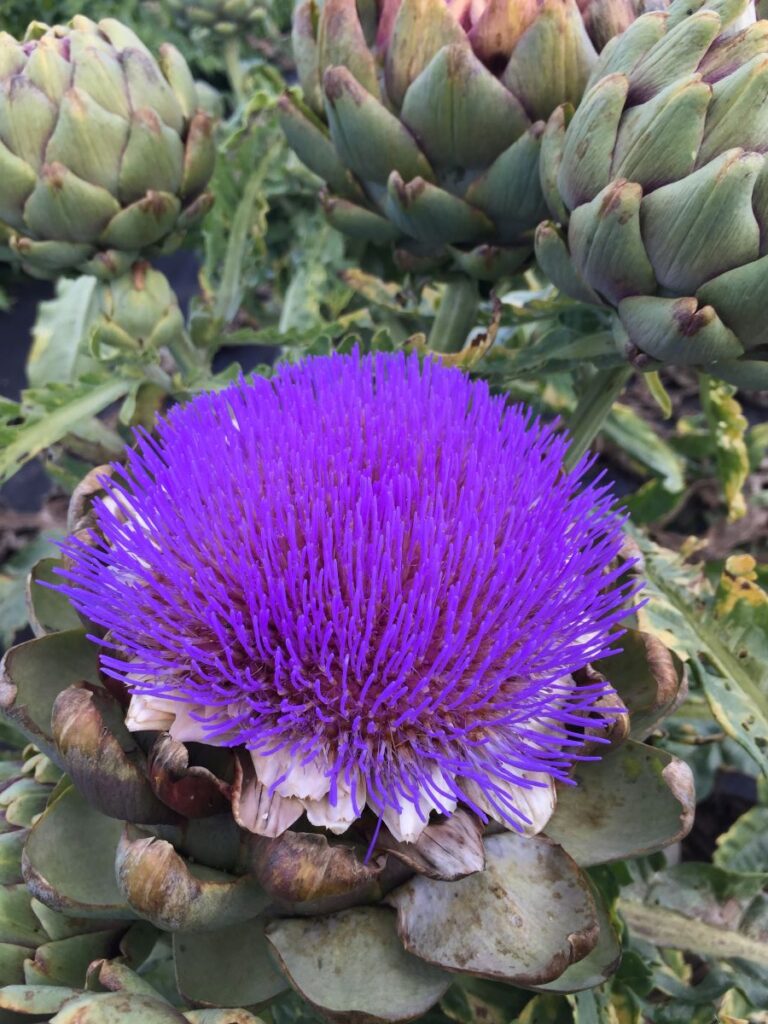 Sitka blogger Florence Welsh found that artichokes do very well in Southeast Alaska and can even be overwintered there. In Anchorage, long-time garden columnist Jeff Lowenfels has successfully grown artichokes, but suggests cardoon might be a more reliable choice especially in cool, rainy summers. The Municipality of Anchorage grows some artichokes (Green Globe and Imperial Star), but mostly cardoons (Porto Spineless), mostly for the foliage. Somewhat similar to artichokes in appearance, cardoon produces a beautiful flower, but instead of eating the bud, you eat the stem or stalk after removing the tough outer skin.
Artichokes are also incredibly high in antioxidants for a vegetable. You can boil, steam, roast, or cook them in a pressure cooker.
All that to say, there are plenty of reasons to give artichokes a try here in Alaska.
Previously published in the Fairbanks Daily Newsminer August 21, 2022.