Gardening in raised beds offers a lot of benefits, and a few drawbacks. Raised beds are a great option for gardening on top of a porch, concrete, or on poor, rocky soil. They're ideal for corralling good soil while keeping it from getting compacted. They make it easy to employ no-till gardening and to eliminate weeds in the aisles, especially if your walkways are made of concrete or something else that completely keeps weeds from growing.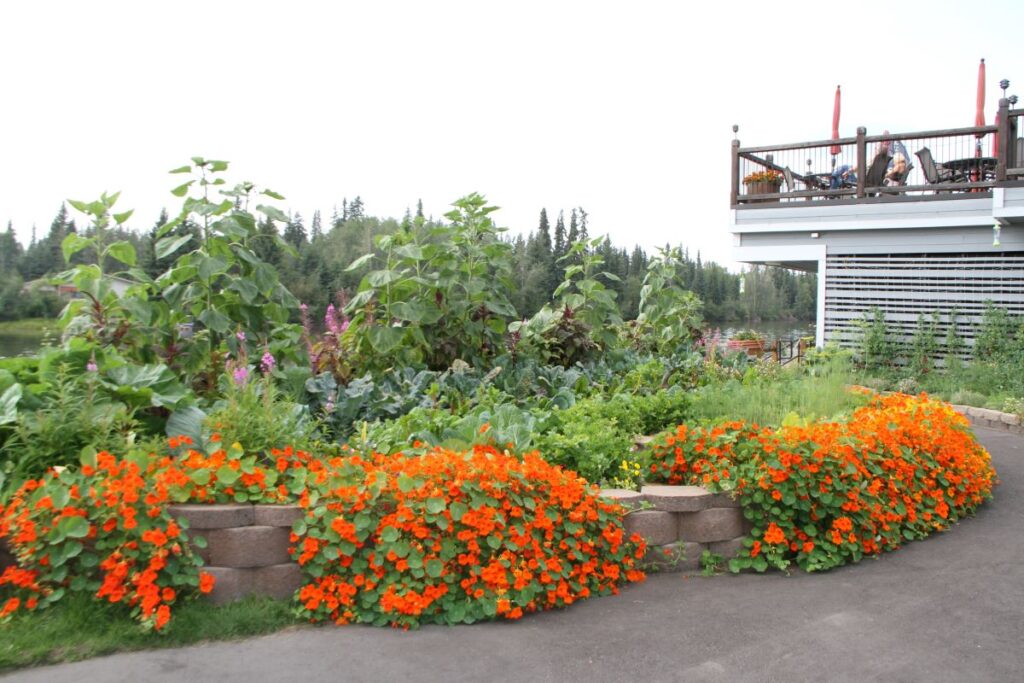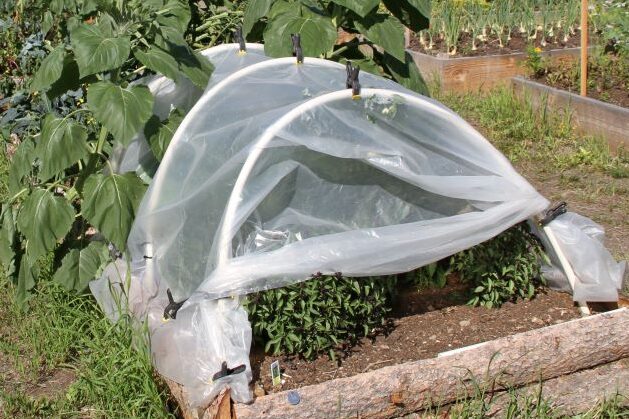 For those with limited mobility, raised beds could make gardening possible. For others, it might just prevent a sore back. Another bonus for Alaska is that they thaw out more quickly in the spring and get hotter during the summer. It's easy to erect a simple cloche or hoop house to extend the growing season further and heat up the beds even more. If your garden is unfenced, the plastic cover might even deter moose and birds from eating your garden — although no guarantees there.
Raised beds can be a little pricey to build initially unless you are an all-star recycler. If you let the weeds get out of hand, you may need to replace your soil which can be cumbersome in a raised bed.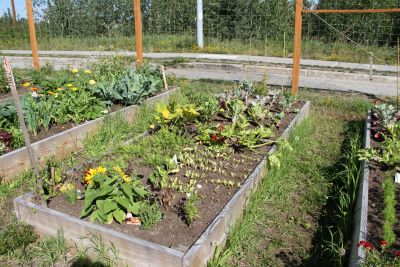 Raised beds also require more attention to watering (however drip irrigation or flow through planter can help with this). To maintain productivity, you'll need to fertilize or add compost or organic matter each year. It's also important to keep an eye on diseases or pests in your beds. Prevention and early detection are usually the best way to prevent the diseases from taking over.
Before you build your beds, answer the following questions:
1. What and how much do you want to grow?
2. How big (depth and area) should your beds be so that you can grow what you want? Shallow-rooted crops such as onions, lettuce and radishes can be grown in 6-inch-deep beds, while deep-rooted crops such as potatoes would need to be grown in beds that are about 2 feet deep. Try to make the beds no wider than 4 feet so you can easily access the middle of the bed to plant, weed and harvest.
3. What non-toxic building material do you have available or plan to purchase? Here are some considerations for toxins from treated lumber.
4. How will you ensure there is adequate drainage in the beds while preventing weeds or tree roots from growing up through the beds?
After you answer these basic questions, the designs for raised beds and planters are limitless. Here are some ideas from Alaska Master Gardeners.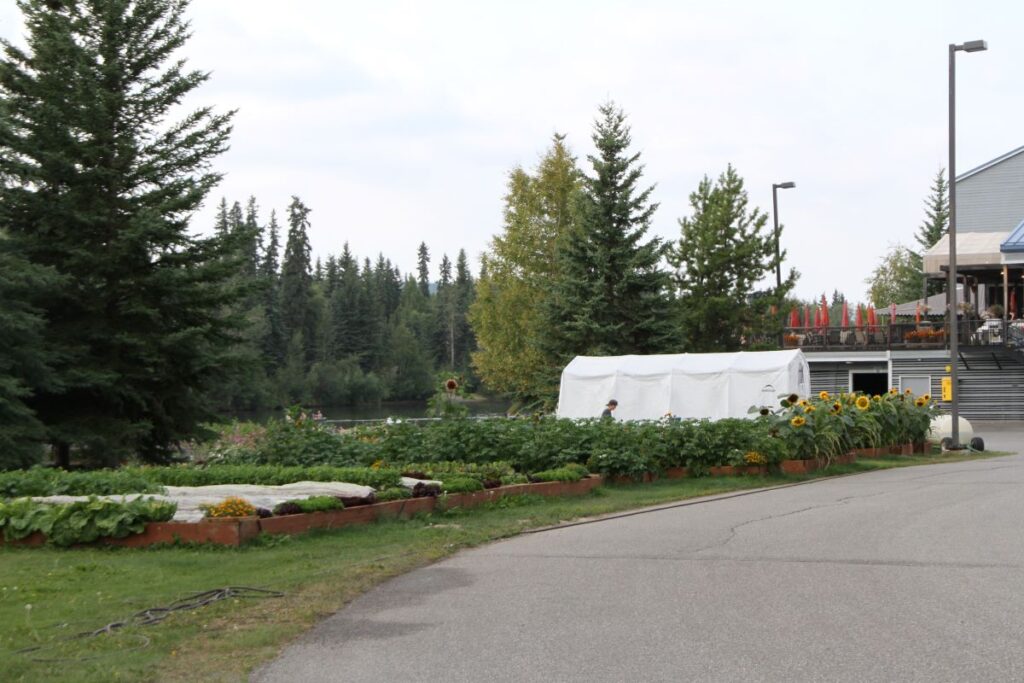 Be sure to fill your raised beds with good soil. One part compost, one part peat, and one part garden loam is a good combination. Whatever soil you use, be sure that it is weed, disease and rock free.
When planting, give plants enough space, but not more than they need. If a plant bolts or is unproductive or diseased, remove it as soon as possible and plant something to take its place. This will maximize your bed's productivity while minimizing any space for weeds to grow. Think about plant spaces in terms of square foot spacing rather than in rows. I like to use what's called a seeding square to mark out the grid, rather than string or wooden lattice. I have never been so careful with the technique to make grids using string, but I do use the concept as a general guideline for laying out my beds.
Here are some videos that demonstrate how to:
1. Build a 4 x 8 foot raised bed (accompanying diagram and materials list),
2. Fertilize and add compost to the bed each year,
3. Erect a row cover over the bed, and
4. Put up a trellis in the bed.
Another key to managing your raised bed garden with a maximum amount of ease is to put down weed fabric under the raised beds as well as in the aisles. On top of that, you could put a wooden mulch or gravel to protect the weed fabric. You can try the road fabric weed barrier or a heavy duty weed barrier fabric. It can be an investment up front, but usually it is worth it in the long run!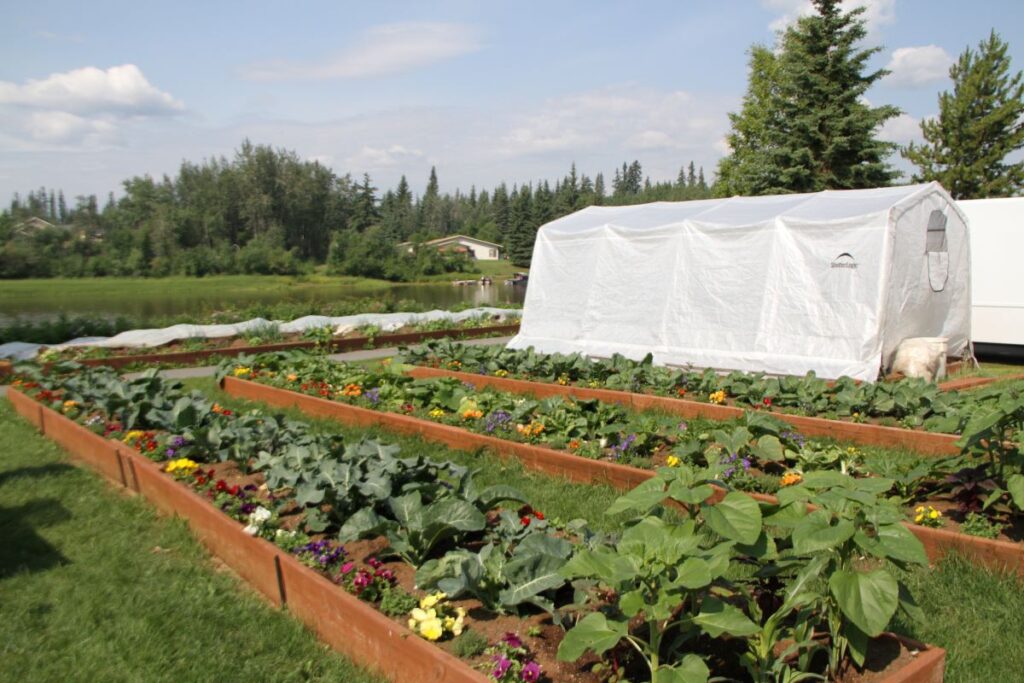 Some people have large raised bed gardens while others may have just a couple of raised beds. If you are the latter, than here are some things you can grow in a small space.
Previously published in the Fairbanks Daily Newsminer May 15, 2022.